MW-TJZQ-01 / Needle-Detector-MW-TJZQ-01
MW-TJZQ-01 Touch Screen&Printer Computer Needle Detector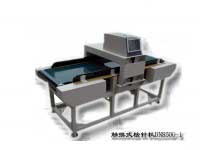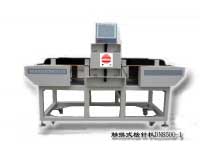 Product Introduction
MW-TJZQ-01 Touch Screen&Printer Computer Needle Detector is the latest generation of needle machine, this machine uses the world's popular touch screen technology to control needle detector, the needle detector operation very simple and convenient. Particularly suitable for general factory employees to use. The machine can print the results of detection situation out.
Applicable
Clothing, baby products, knit goods, underwear, hardware buttons, zippers, socks, non-woven fabrics, embroideries, kimono, beddings, towels, carpets, gloves, toys and handicrafts, etc.
Features:
This machine adopts HITACHI circuit design
80% main parts imported from Japan
Detection report PC print
Sensitivity controlled by computer, high accuracy to adjust 99 levels
Imported touch screen controller, 7.4" color LCD
Accurately recognize the position of the broken needle (metal) and display on the LCD.
Specifications
| | |
| --- | --- |
| Model | MW-TJZQ-01 Touch Screen&Printer Computer Needle Detector |
| Detection Method | Magnetic field induction, digital circuit |
| Detection Sensitivity | FeΦ0.8mm-2.5mm(Standard Detection Height:12cm,Standard iron ball size 0.8mm) |
| Detection Adjustment | 1-100level |
| Detection Width | 600mm & custom-build machine |
| Detection Height | 120mm & custom-build machine |
| Alarm Method | Alarm by sound & light, machine stops, conveyer returns, then restarts again |
| Power Supply | Ac220V 50-60Hz |
| Power | 60W |
| Machine Size | About 1500L×900W×1150H |
| Net Weight | About 250KG |
More Pictures