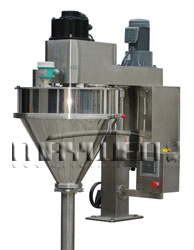 MW-3B-603 Auger Filling Machine
| | |
| --- | --- |
| Filling Weight | 10g - 5kg |
| Filling Accuracy | 100 - 500g, �ܡ�1%; > 500g, �ܡ�0.5% |
| Filling Rate | 40 - 120 times/min |
| Power Supply | 3P /208V-415V 50/60Hz |
| Total Power | 2.4KW |
| Total Weight | 250kg |
| Overall Dimensions | 1125��700��1200mm |
| Hopper | Split hopper 65L |
Descriptive abstract:
This type can do measuring and filling work. Due to the special design, so it fits more to the fluidic or low-fluidity materials, like milk powder, Albumen powder ,solid drink, white sugar, dextrose, coffee powder, fodder, pharmaceuticals, agriculture pesticide, granular additive, dyestuff, and so on.
Optional Model and configuration:
Model MW-3B-600: Without electronic cabinet and control cabinet;
Model MW-3B-601: With electronic cabinet, without control cabinet;
Model MW-3B-602: With electronic cabinet and PCB & LCD control cabinet;
Model MW-3B-603: With electronic cabinet and PLC & Touch Screen control cabinet.
Characteristics:
The hopper which could be washed without toolings.
Servo motor driving screw is characteristics of no easy abrasion, high-precision orientation, setup rotate speed, stable performance
The surface of whole machine is made by stainless steel material except of motor.
Include handwheel of adjustable height.
Fit for lots of material range from fine-powder to granule, if change the screw attachment.